back in june, the congregation i serve had a big celebration to commemorate all that we had gone through and accomplished with the lead project.
as a side note, the silent prince's lead levels are now: blood level 39 (too low to treat, but close) and body burden: 70 (that's down from over 500.)
i asked my mom if she would ask some people, from her congregation, who were musically inclined, if they might be willing to come and bring their talents to the service.
my mom has the ability to get people to do things and this time was no exception. she brought along a flutist and a soloist named
kristen huffman
.
apparently kristen was pretty moved by the whole service, especially hubby's sermon and later on mom told me she wanted to do a benefit for the silent prince. i have to say that i was a bit confused... did she want to do a benefit for the silent prince, the congregation or the lead clinic at yale (where the donations from the service were sent)?
then, a little over a month ago, mom and dad informed us we had to keep last saturday's date open because kristen and their organist bill, had organized a children's cabaret to raise money for the prince.
the cabaret would cater to children; the waiters and waitresses carried around trays of food, including chicken nuggets and juic boxes, and entertained tables by singing songs from disney movies. the performers, mostly children and teens, played the piano, sang songs, and performed musical numbers from children's shows. the room was decorated with white lights and balloons and each table was strewn with lollipops and fruit snacks.
kristen and her cohost for the evening, a 12 year old girl, dressed up like belle from beauty and the beast and asked all the young performers what they wanted to be when they grew up. the opening number was the song from the movie: "be our guest."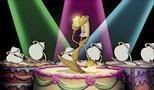 what none of them knew before hand was that it is one of the prince's favorite movies and when they sang the song to him there was such recognition on his face...

i could easily have called this post "the kindness of strangers." about half of the people there were members of my parents' church, but the rest were family of the performers and didn't know us.

about half-way through the caberet kristen asked us to say a little bit about the prince and our situation. not to be left out of the spotlight the princess kitty stood next to me and helped explain what life was like with a child who was autistic. (btw, she wants to be a ballet teacher.)

the princess and i explained how we'd like to have a fence built in our backyard so that the prince can play outside (which he LOVES to do) without fear that he will run out into the street if we turn our head for a moment (he's done it before, the quick little bugger).

the other day, mom called and said: build the fence. the caberet had raised $2,800.

$2,800! i was floored and it's been until now that i could get up off the floor and write about it.

so we are building a fence and who knows what with what's left over. i feel filled with possibilities.

on the way home from the cabaret that night, hubby and i agreed that we really didn't care about the money. it was the fact that so many people, many of them strangers, had offered us such support... such amazing support.
and i am so grateful.
God's peace y'all